Ideally, electric-heated floors get installed under such surfaces in the house which are always cool to touch. Through this flooring system, you can get your entire space warm evenly. Usually, these floors are installed in the bathrooms, but who wants to come out of a nice warm shower on the cold floor of his / her room. So, you might need to get it installed in such places where you want it all warm and cozy.
You can get any type of flooring over the electric-heated floor, either marble or porcelain flooring, or no matter which type of flooring, you gonna get installed. But, the most common type of such heated floors is stones and ceramic, because they can hold the heat at their best without getting any damage. There are so many uses of these floors, and this article will clear up the wind of that concern, i.e. "Why Use an Electric-Heated Floor System?", from your head.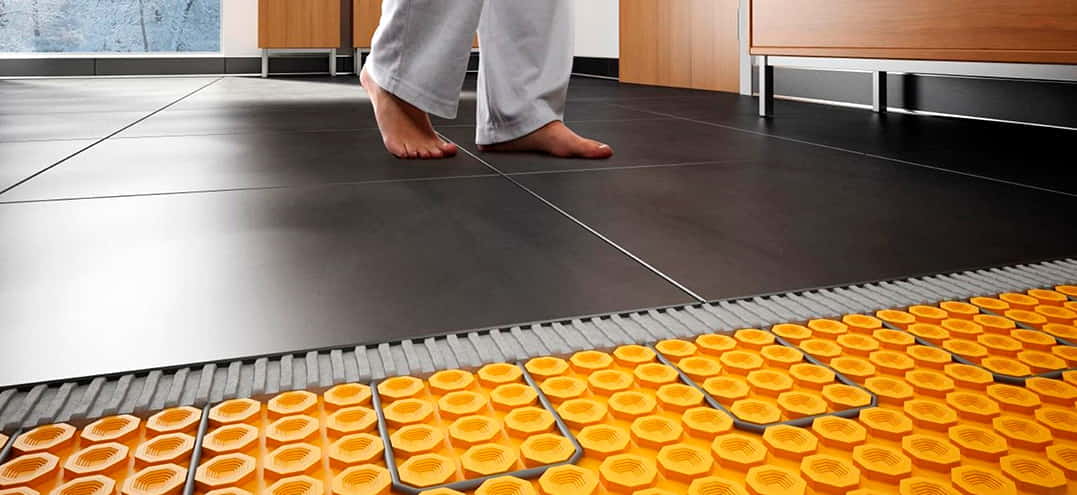 Some Legit Reasons for Using Electric-Heated Floor System
Although there are so many reasons to use the electric-heated floors in your space. But, there you will get to know some genuine reasons to install it under the surface of your home flooring.
These efficiently working floors will make you get them installed as soon as possible to add some warmth to your space and let you enjoy the winters in your cozy living space with a cup of some hot coffee/chocolate, for sure.
1. Use Electric-Heated Floor for Uniform Heating
The biggest perk of using electric heated floors is the uniform heat. These floors tend to heat the room or floor, evenly according to the temperature of a person's body. This means when it is summer, you won't feel any type of heat, and in winters, it will keep your entire space warm and cozy. On the other hand, if you are going to use the forced air heating systems, you won't get an evenly heated room.
Forced air-heated systems use vents to distribute the heat, and their direction, actually decide which part of the room is going to get warmer. So, in comparison to this, an electric-heated floor is, obviously, the best choice to make for an evenly warm room.
2. They Don't Require Any Maintenance
These electric-heated floors don't require any maintenance. They are super durable and some of them even come up with a warranty of 25 years. And, if any type of cable damage occurs during/after installation, the professional will come with the detector to detect the damage and repair that cable on the spot. And, here you go with your sustainable warm floor, again.
But this type of warranty and benefits only come up with some of the floors. Other floors don't offer such benefits, so it will be better if you make a wise choice.
3. Electric-Heated Floor are Energy Efficient
These floors are energy efficient because they can get your space warmer in only 30-60 minutes according to your preference. You can turn it on and off manually or by the connected wi-fi system. Therefore, you can allow only those rooms to get heated, and warmer, which you want to, or on a "room-to-room" basis.
Moreover, these electric-heated floors are inexpensive, regarding their cost to operate, i.e. it will cost you even less than a dollar to run this system in the typical bathroom.
4. Easy Installation
These floors are easy to get installed in the living space. Because they come up in the form of rolls with the attached heating cables and can be installed in almost every type of flooring. So, all you have to do is just roll it out, install and cut, saving a lot of your money.
In addition, these floors are cost-effective because they don't require any ductwork, which is also a time-saving process, of course. Thus, installation of electric heated floors saves both your time and your money, as well.
5. Quiet and Non-Allergic
Unlike forced air systems, these electric heated floors do not produce any type of sound, i.e. a loud furnace after getting turned on. On the other hand, the forced air systems produce a lot of noise, hence disturbing you while working or sleeping, etc.
Furthermore, they don't blow up any type of dust particles like forces air systems do. These floors, actually, warm the room and its objects directly with the radiant heat, hence they don't disturb any of the dust particles or allergens in the room.
To Conclude
Now, after knowing all these legit facts about electric heated floors, having so many perks. It is safe to say that you gonna make a good choice that either you are going to install these floor systems or not. Other simple floorings and the forced-air system don't offer you all these benefits, usually. So, make your choice wisely and accordingly.