Persian rugs are exquisitely designed with classic prints. These rugs were handmade in Iran which is historically also known as Persia. These rugs filled with designs and symbols represented many local tribes, traditions, and Iran's rich history and people.
Within your interior space, the most balancing element including art and science is interior architecture. Although, there are a number of ways to add flair to your living space from your coffee table to your desirable rugs.
But for instance, if you want to add personality to your space then these rugs are a great way to go. But, like most people, you must be wondering about " How to decorate your space with Persian rugs ". Well, in this article we'll learn about the different ways to decorate your place with interior rugs.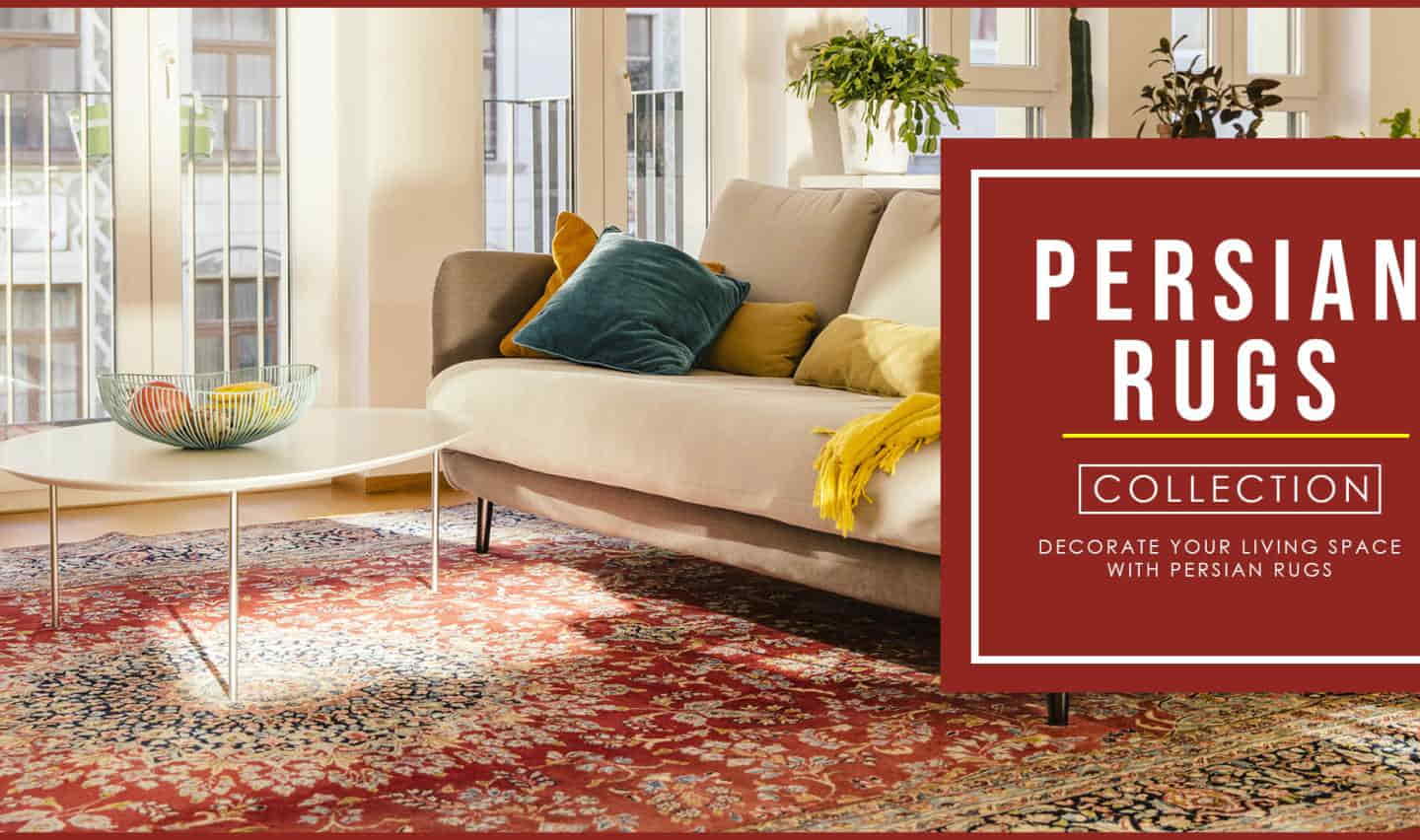 Let's Learn About The Ways To Decorate Your Space With Persian Rugs
Starting with hand-woven Persian rugs is one of the most effective methods to start decorating. Many of us convene in the living room for a family gathering or to socialize with friends.
As a consequence, concentrating on interior decoration may assist in creating a welcoming environment for both guests and pleasant conversation. A Persian rug may be utilized to liven up your living room or even bedroom while also honoring a rich cultural past.
Follow the guidelines below when it comes to How " To Decorate Your Space With Persian Rugs ", and you'll be amazed at how different your living area looks. Here's how to make a Persian rug work in your home!
1. Use A Persian Rug In Considerable Size
Considering the size of your living room, guest room or bedroom will determine the size of your rug. Persian Rugs Dubai are also available in a number of sizes, styles, textures, and patterns. We have a great Persian secret to decorate your living spaces. It will make your living place very attractive and deserving of all your affection.
You just have to take measurements of the area where you want to add your Persian rug. Find the rug that is 2 to 3 feet smaller than the size of your living room, based on the width and length of the area. This will allow you to conserve some living room space. It will make the living space look larger and more balanced in the end.
2. Try To Make A Balanced Look
To decorate your space with Persian rugs, Getting a balanced look in any type of décor is very important. It depends, if you're going to use a densely patterned fabric wallpaper on your plain naked walls then you must opt for a modest and minimalist rug instead. Either way, you'll wind up with a too bright & complex interior living room design, that is actually not in trend nowadays.
So, on a practical note, you must try to have a balanced and clean appearance. On the other hand, with a busily patterned rug, you can go with minimalist furniture and décor to get the right balance. In addition, today's fantasy modern homes have a more balanced and delicate appearance than those of the past with high ceilings and wider windows, so decorating your space according to modern trends is good.
3. Place A Rug Designed With Natural Fibers
When it comes to deciding décor and design elements for your living space, durability and solid construction are paramount considerations. So, in regard to this purpose Persian Rugs Dubai must be pursued with a focus on long-term sustainability and durability.
Rugs designed with nature are great for adding natural and traditional appeal and also to be a long-lasting option. While the earthy texture offers a relaxed vibe and also gives your home a natural makeover. These rugs with considerable endurance make them a practical alternative over synthetic fibers rugs. So, if you're seeking a beautiful yet long-lasting rug for your living space, natural-fiber Persian rugs could be the ideal option.
4. Consider Using Furniture Coasters
If you are having a luxurious rug in your living room, placing heavy furniture on top of a rug, such as a sofa or chairs or tables, might create scars.
So, in order To decorate your space with rugs & to protect your Persian rugs from getting damaged you may use furniture coasters. As a result, it'll better disperse the weight of the furniture and avoid causing damage to the rug's pile.
5. Choose The Rugs Stylish Yet Practical
Among the most practically used ways to decorate your space with Persian rugs, one of the best ways to choose the rug that is stylish and practical too. No matter where you are considering adding rugs in your home, it must perform its function well along with offering a visual appeal to your space.
When selecting a Persian rug, consider not only the beautiful elements and style but also the utility. Choose a Persian rug that is constructed of high-quality, long-lasting materials for long-term use.
6. Choose Rugs to Cover Extra Spaces In Your Room
Extra and exposed spaces in any room can make your home appear drab and detract from its aesthetic appeal. If your living area has a lot of unused or exposed areas, then you must consider placing a stylish rug. Fill the space with a large Persian rug that fits the rest of the décor and use it. There are a variety of rugs that can be used to fill and personalize the space.
Select a rug that is attractive but also feels comfy and soft underfoot when your visitors walk over it. It is best to finish your living space as much as possible to maintain the living area flooring fresh and tidy.
Conclusion
So, for your query " How to decorate your space with Persian rugs", we have listed a number of ways that you can follow.
We know that traditional rugs may not only contribute to the beauty of your living space, but they can also give it an artistic and luxurious appeal while adding a touch of elegance & sophistication. Be ready to try out different Persian rug shapes and designs from different cultural trends as they're a great way to bring some traditional touch into your home.